Scrutari Praesevare
(to study and preserve)
Scrutari Praesevare
(to study and preserve)
Judith River Dinosaur Institute launched in 1993 to educate science teachers about dinosaurs. At first, Founder Nate Murphy would travel to teacher conferences. Then, teachers began coming to Montana to experience his digs firsthand.
For more than 30 years, JRDI has hosted multiple digs each summer for dinosaur enthusiasts throughout the world.
Judith River Dinosaur Institute is dedicated to education, science, and inspiring a love for paleontology among the next generations. During each dig – Nate Murphy and other professionals guide participants in both studying – and preserving – the specimens they uncover.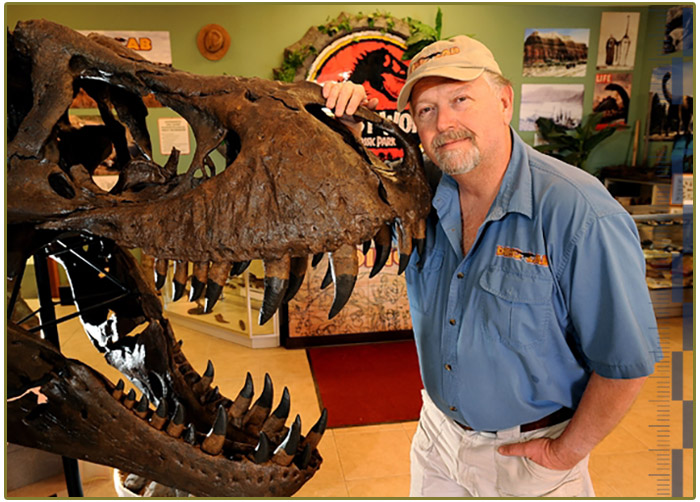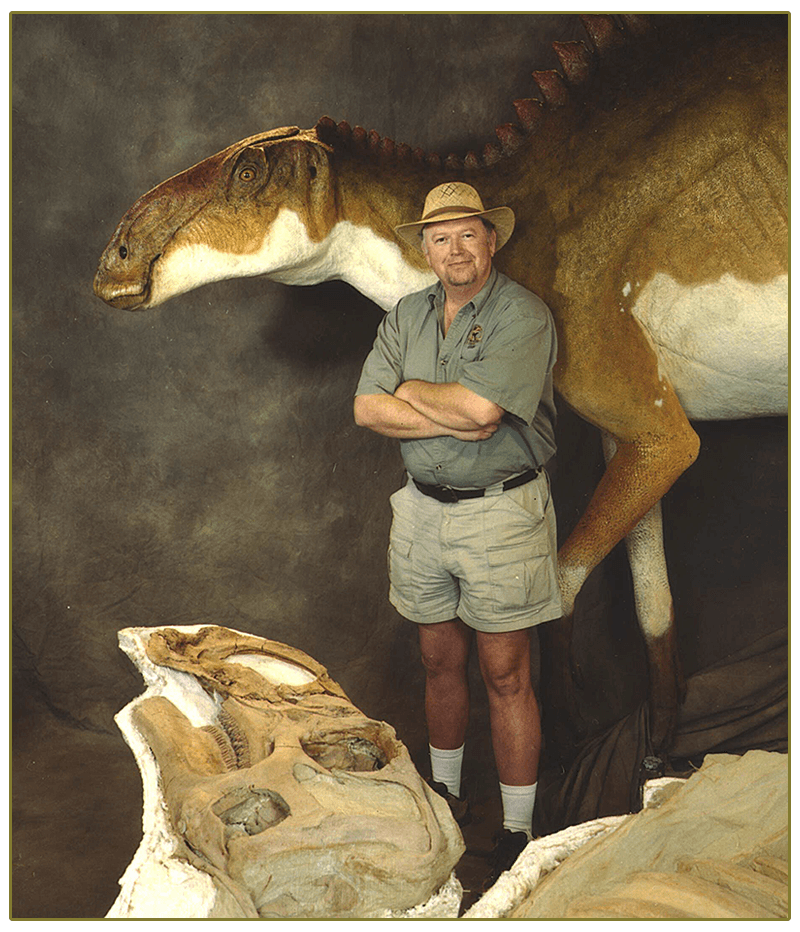 He's a national speaker. He's a published author. He's been involved with at least 35 dinosaur documentaries. And he's a world-renowned paleontologist.
A dinosaur excavator and fossil preparations expert for more than 45 years, Nate Murphy contracts with private landowners in Montana to locate and excavate fossils. He then prepares the fossils in his lab in Billings – Dino Lab – for museums worldwide.
People's Paleontologist
In the 1990s, Nate Murphy became known as the "people's paleontologist". He was often featured as an expert in the news – and he was a newsmaker, too. He helped to excavate the world's largest carnivorous dinosaur Giganotosaurus in Patagonia, South America. And when he and his team found the best-preserved fossil in the world, Leonardo, he was featured in Newsweek, NationalGeographic.com, and the 2004 Guinness Book of World Records.
Passion for Paleontology
Growing up, Murphy's family was involved with the field and they instilled in him a love of paleontology from an early age. Murphy found his first dinosaur in Canada when he was 10 years old. Fifty years later, he is still doing what he loves. And he is instilling a passion for paleontology in the next generations.
In my former life I was a field service engineer in medical imaging which means I've spent a lifetime figuring out how to fix things.  Being 100 miles from the nearest Ace Hardware means you have to 'Markguyver' a solution with whatever can be found in camp or in the Yellow Submarine.  I haven't met a challenge that couldn't be solved yet.
I get really excited when the diggers uncover a large, heavy bone because that's when I really get to stretch my engineering muscles and figure out how to get the jacket off the ground and on to a flatbed headed back to the lab for preparation.
Perhaps, most importantly to some diggers, I am the first one up in camp can brew up a dino-mite pot of coffee.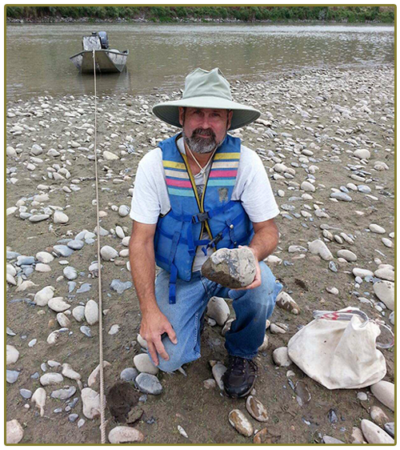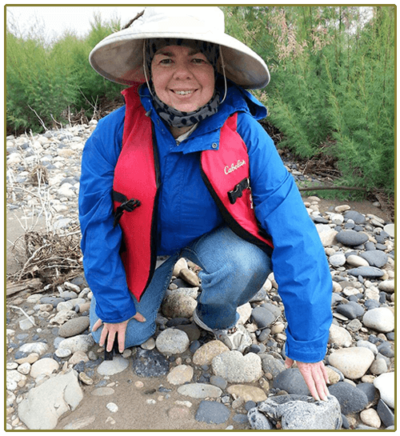 I spent my working years as an X-ray technologist looking at film of human bones.  Now that I am retired, I spend my summers looking for dinosaur bones. 
I help run the camp and make sure everyone gets fed.  Overall, I am friendly and easy going….I just have one warning…Don't poke the Bear!
I'm Montana born and bred, educated at University of Montana where I earned my degree in Geology and darn proud of it!
 I always wanted to be a paleontologist but went with geology so I could pay the bills and raise a family.  Now, back to paleontology – finally!
I enjoy being at camp and talking geology with the other budding rockhounds.  I get to throw around terms like stratigraphy, Morrison formation, sedimentology and Jacob staff/brunton.  Nothing makes my spine tingle more than a good discussion on how these critters came to be buried and the environmental conditions that made it happen. And of course, there is plenty of opportunity to initiate young geologist by having them sample the soil by tasting.  Afterall, a good geologist always has grit in their teeth.
I got the name Magoo for my antics in the field and lab including gluing my fingers together – Hey it could happen to anyone!  But I've got the t-shirt to prove it!
People say our digs are dino-mite…my sediments exactly!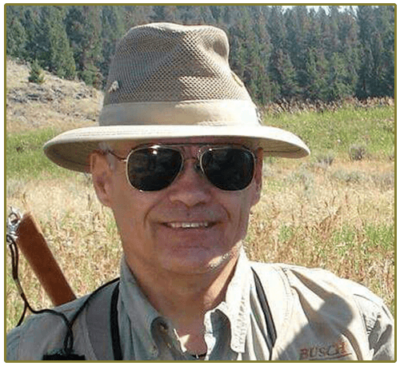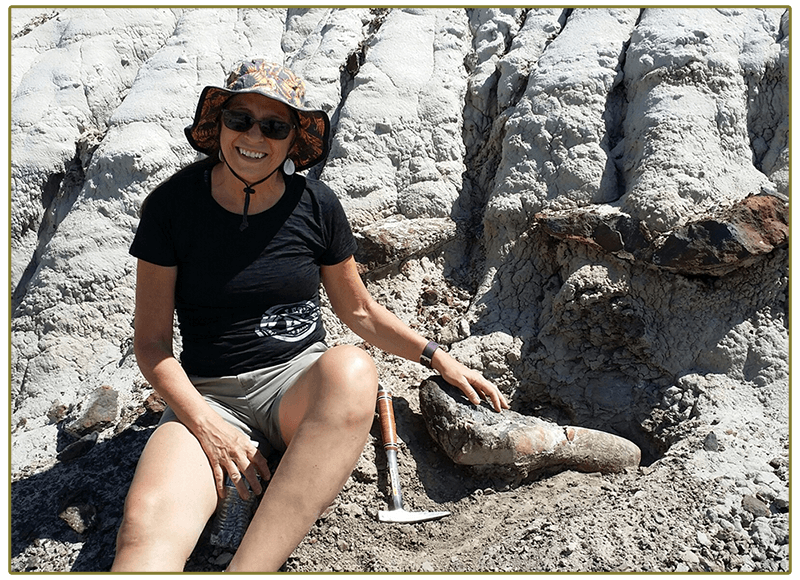 My interest in dinosaurs began in 2019 when I met a guy who knew a thing or two about dinosaurs.  Three years later we were married.  I still don't know much about dinosaurs but am useful in other ways.  Ask me what's for dinner and I'll give you the skinny…but no questions before my first cup of coffee, please!
PS. My favorite dinosaur is Nate.
Nick is a native Montanan. He grew up with a camera in his hands and has been shooting video for JRDI since 2004. In addition to running several businesses, he volunteered at Bitterroot Public Television for 10 years and served as Board Chairman for five of those years. He is a published author, artist and musician.  His band has played throughout western Montana for more than 15 years. Nick is the keeper of and creator of many verses of the campfire sing-along favorite "Overburden Blues".
"The dig experience is the highlight of my summer. We camp and sing. And dinosaurs arrive!"