Picture it: Six days in Montana's Little Snowy Mountains. It's hot. It's dirty. And it's a total immersion of the outdoors.
There, about 20 people from around the world are digging for dinosaurs together. And they're not professional paleontologists. They're just everyday people who are passionate about uncovering the past.
In this rare experience, this excavation team learns the process of extracting and studying fossils, including learning how the dinosaurs died and were buried. And they learn scientifically responsible fossil collecting – with a deep understanding of sedimentology mapping and geology.
2024 Dinosaur Digs
Week #1 – July 7-12, 2024 – 20% Full
Week #2 – July 21-26, 2024 – 25% Full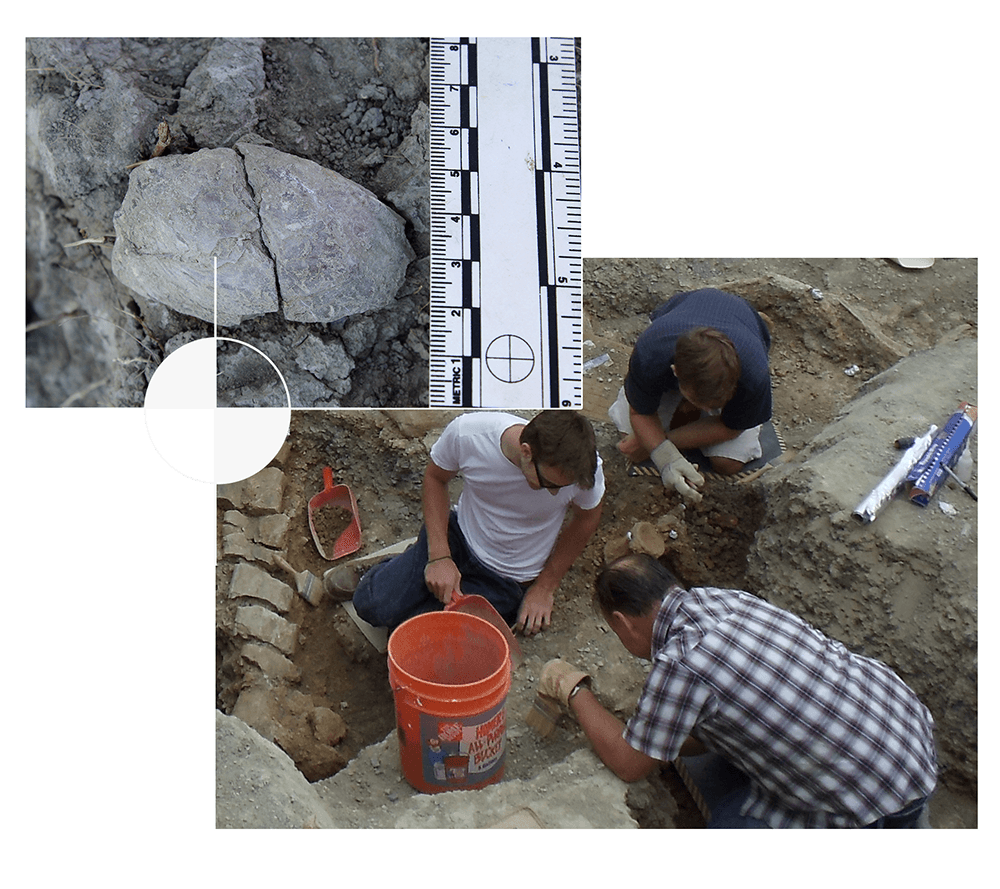 1) Find the bones
The team explores an area that has been identified as the right geologic formation for fossils.
2) Mark the location
The team marks the location of weathering bone fragments with pin flags. Then, they step back to review where the highest concentration is located.
3) Establishing a dig quarry
3) Establishing a dig quarry
The Team will GPS and create test holes to establish an active quarry.
4) Remove the overburden
The overburden is removed by pick and shovel, and sometimes large equipment to about a foot above the fossil bearing layer. The team then use hand tools, such as awls, paint brushes, and X-acto knives, to do the detail work of excavating the bones.
5) Collect data
The team numbers the specimens and installs a grid of stakes and string over the bones to draw them exactly how they lie in place in the quarry. The groups map the position of the individual bones, photographs, and take sediment samples for future geochemical testing. "Dinosaur CSI" is what Nate calls it, as collecting from a paleontological site is similar to the documentation that happens at a crime scene.
6) Remove the bones
Once the bones are fully excavated, they are pedestaled and are ready for plaster jacketing. Jacketing ensures that the bones stay in place during transport to the lab so they do not move – much like a cast that a doctor puts on an arm with a broken bone. The jackets are constructed of strips of burlap and plaster.  The jacket is then numbered and catalogued.
7) Transport the fossils to Dino Lab
7) Transport the fossils to Dino Lab
There, the process of preparing the fossils for display at museums takes place. This is where "we bring them back alive," as Murphy says.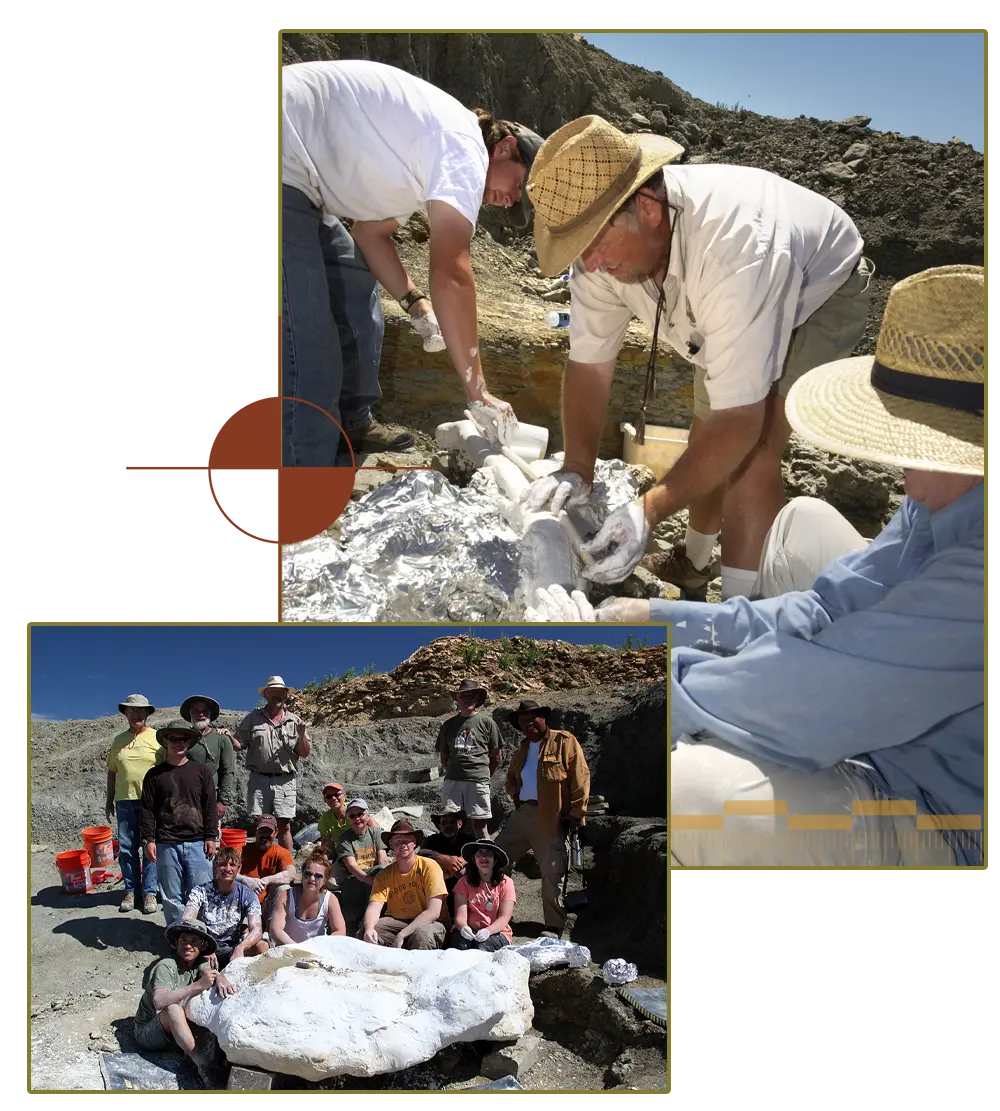 Judith River Dinosaur Institute attracts a wide range of people who are interested in the real world of dinosaurs and being in the great outdoors of Montana. Digging dinosaurs is often hard, tedious, intense, hot and dusty work. While we have a lot of fun on our programs, this is a serious experience.
6-day campout under the Montana Big Sky
Experience unearthing fossils that are 150 million years old
No experience necessary! We teach you everything.
Camp Life, like the daily digs, is off the paved roads and on the beaten trail under the Montana Sky. It is a team effort, which means everyone helps the camp function. Established in 2004, the camp has large, shaded areas where everyone can enjoy the end of the day's work and relax. Hot and cold showers for all to knock the dust off and refresh yourself daily as well as a kitchen area for putting out great meals. We also have trailer mounted porta potties. Our camp areas are all mowed mountain meadows with the Montana Big Sky for a ceiling!
Evenings at camp after dinner offer activities such as horseshoes, cornhole, or giant Jenga.   Around the campfire you can sit in on a scientific discussion with fellow team members or an educational paleo talk by a staff member.  Thursday evening, we enjoy live music around the campfire.  Our camp is about fun, relaxation, refreshment and good conversation.

Boothill Inn is the official rendezvous and lodging while in Billings MT. for the JRDI and we have reserved a block of rooms around the dig dates for your convenience. Special "Dino Digger" rate for a room with 2 queen size beds is available for you. (Tax is not included in those rates.) They also provide complimentary shuttle service, serve a hot breakfast each morning and fresh baked cookies in the evening. They also offer WIFI throughout the hotel and have an indoor pool and hot tubs for guests. Be sure to check out the dinosaur fossil exhibits in the lobby.
Reservations can be made through their website at www.boothillinn.com. All you need to do is note that you are with that you are a "Dino Digger" and that will ensure you get that special rate!
Want More Information?
Completing the form below reserves your spot on the dig for 10 days. Or, contact us at 406.696.5842 or nate@jrdi.net for more information.
Inquire Now!
The Little Snowy Mountains Dinosaur Project is now booking spots on their upcoming dig programs! Immerse in the Montana outdoors and unearth the fossil remains of Jurassic giants like sauropods and stegosaurs. Space is limited, but the adventure is out-of-bounds.
Apply Now!
Still Considering?
We're Here When You're Ready
* indicates required field.